Statement necklaces have been around for a while but suddenly I see a large influx of them in most stores from Tony Burch to Kate Spade to  Zara to Forever 21. Paired with the right clothes they sure do make a good statement. I suddenly had an urge to try them out so I went on an adventure. I tried Zara first, I liked their collection but nothing really caught my eye. Also, I wasn't really sure whether I will really wear them and whether they would suit my hijab. Therefore I decided to first buy a few not-so-daring ones to start off my experiment and found 3 from forever 21.
Now I think they are pretty cool and totally glam up your super comfy plain clothes. The negative for me is that it is quite heavy on the neck and matching my hijab right is also quite a mission.
A few different kinds of statements you can make.
 BEADED RIGID NECKLACE from ZARA
This one was gorgeous and if your into the snaky look its perfect! (But I am terrified of snakes).
Pictures Via ZARA official webpage
These three pieces from Charlotte Russe are pretty and are good examples of different designs you can make your overall look with.
Middle : Clustered Faceted Stone Collar Necklace
Right : Geometric Rhinestone Cut-Out Bib Necklace
If you  do not like the whole loud neck pieces, you can choose something more subtle and glittery like this one from Tony Burch. They look really pretty paired with almost anything.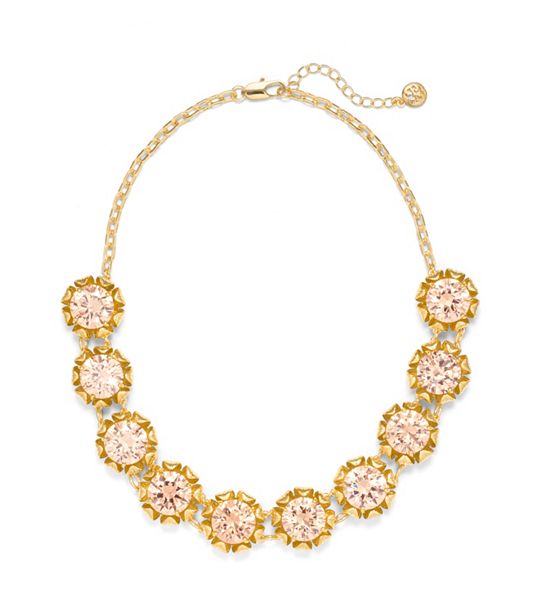 LEAH SHORT NECKLACE by Tony Burch
Here one way I paired one of my necklace.
Look 1: I paired a ZARA OFF-WHITE ECRU LONG DRESS WITH LACE TRIMMING  with this mint necklace from forever 21 (with my black tights and hijab of course)